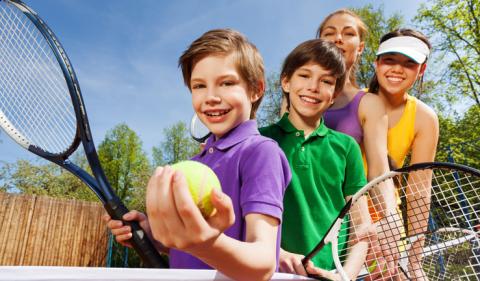 LA OPEN JUNIOR TENNIS TOURNAMENT
"Strong start for a healthy child" 
benefiting CALIFORNIA FOOD AID
California Food Aid is a charitable organization striving to support people's desire to lead a healthy lifestyle and to raise healthy and successful children. We create an educational platform where everyone can learn about proper nutrition in a safe, fun, and supportive environment.
Exercise is an important part of healthy living. We are very pleased to announce this tennis tournament where we can teach kids the importance of good sportsmanship while having fun and exercising. Signing your children up for LA Open Junior Tennis Tournament, benefiting California Food Aid, is a great way for them to grow and improve as players, engage in healthy competition to test their skills, and strive to take their game to the next level. If your child is dreaming to become the next Serena Williams or Rafael Nadal, or just wants to improve his or her skills, he or she will definitely want to take part in this annual tennis tournament.
When: MARCH 5-6, 2022
Who: Kids 10 & Under and 12 & Under. Players must know how to serve, rally and score
Where: UCLA
TOURNAMENT DIRECTOR: JULIAN SVITOLIN
Daily Match Schedule:
   
The tournament will be played in two days. Sat 11-4pm, Sun 11-4pm
All draws will begin play on Saturday, MARCH 5, 2022. Matches will be scheduled at 11, Saturday and Sunday. Please be available to play as scheduled. Special time requests that are made via email to the tournament director prior to the entry deadline will be considered but can't be guaranteed. (No telephone calls, please.)
Draws will be posted on Friday, at noon. 

Match Format:
AGES 10 & Under will play 4 games set.
AGES 12 & Under will play a full set match.
(Entry-Level)
A fun way for youth tennis players to gain experience on the court in a no-pressure
environment.
10 & Under playing with Green ball.
Tournaments are one or two days event.
Players must know how to serve, and rally
Players learn and gain match experience
Fun and supportive atmosphere
Mandatory Court Monitors
No ranking points awarded
Player Selection Type: Players are selected manually by the tournament director after the close of registration.
Consolations: Players must sign up immediately after their first match to be included in the consolation
draw. All consolation draw matches will play one set.
Prizes: TBA
Notes: No refunds after the selection process is done. The selection process takes place after the entries have closed and during the week
before the tournament starts. Once your credit card has been charged, there will be no refunds.
Dress Code: Shirts without collars are permitted on the courts. The shirts must be tennis-themed.
NO PETS, PLEASE
Please remember, pets are not allowed on the grounds at the tennis facility.
EVENT SCHEDULE
                                                                    
Los Angeles, UCLA TENNIS STAD
SATURDAY, MARCH 5, 2022
                                                                                              
10-11 warmup & registration 
11 WELCOME, introductions & PLAY
1 pm-2 pm Lunchtime. Sponsors Happy Hour. 
2 pm-4 pm PLAY
4 pm-5 pm LA Open Junior Tennis Tournament event benefiting CALIFORNIA FOOD AID hosted by tennis celebrity (TBA)
SUNDAY, MARCH 6, 2022
10-11 warmup
11-4 pm QUARTERFINALS, SEMIFINALS, AND FINALS
4 pm-4:30 pm Media Interviews
4:30 pm-5 pm LA Junior Tennis Tournament Award Ceremony
Registration: Entry to this tournament is open both to all USTA members and nonmembers. 
Entries must be submitted by Friday, MARCH 4, 2022, at 6:00 PM ET. To register please fill out and
submit an application here.
We are looking forward to seeing your child at the tournament!